If you're planning a natural stone additional to your home, there are many pre-fabricated "kits" available for features like stacked stone walls, fire pits, and more. If you want to truly customize your project consider having your stone products custom fabricated.
Related: Outdoor Living Transformation – 13 Ideas to Build the Outdoor Space Your Neighbors Will Be Talking About
Natural stone custom fabrication can make your design truly customized and personalized to fit your space. It gives you the flexibility to enhance your indoor our outdoor living design with complete freedom. Custom fabrication allows you to create:
Customized Cuts – for example a hearth, mantle and cap for your fireplace, curved patios, radius steps or even have a custom outdoor kitchen counter top expertly custom built.
Edges – they can be straight or you might choose to have them thermaled, rock-faced, eased, bullnosed or chamfered.
Finish Treatments – gives you various finish options like creating a smooth, satin countertop or a slip resistant walking surface like thermaled or sand-blasted.
Custom stone fabrication allows you to take the stone of your choice, whether it's granite, bluestone, marble or soapstone and work it into a fabulous focal point for your outdoor space. Whether it's patio stone, flooring, countertops, walls, or custom pieces to fit a space in your landscaping, custom fabrications give you beautiful, unique results.
Whatever Your Creative Vision…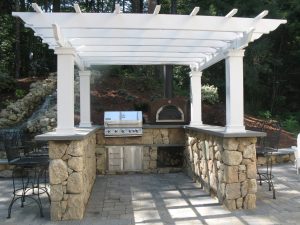 The true beauty of custom stone fabrication lies in your ability to create any design. With custom fabrication, you can choose the exact species of stone. Natural stone offers you many distinct possibilities. When you are working from a slab, because it is a natural material, each piece of stone is unique. Stone is available in every color and pattern under the sun. You can even choose to mix and match species as each is cut to perfectly fit within your design.
A professional stone fabricator will help you choose the materials for your job, they will work with you to help you choose the type of stone, veining, shading and color from their supplies. Once you select your desired stone they will cut it using your templates or custom measurements.
When choosing the perfect stone for you project, they can help you with information on stone density and the overall structural integrity of different species. This is a crucial step. Not only does the quality vary among quarries, the section in each quarry where the stone is mined can influence its strength and durability. For example, limestone can be particularly fragile to work with. While it offers incredible depth and beauty, for an outdoor project, only limestone with an ASTM International rating of Type III is dense and durable enough for most outdoor uses.
Stone fabricators can help you to make these choices before the fabrication process begins. Once you've settled on your choices, they will make a final inspection of the slab for flaws including blemishes, fissures and scratches. The stone is then laid out and prepared to be cut. It is cut to within 1/16″ to 1/4″  of its final size and once cut, any edging and engraving is applied if desired. Your stone is then packed onto palettes and shipped to your home for installation.
Call Old Station Landscape & Outdoor Supply for Your Custom Stone Fabrication Needs
While most companies can take 3 to 4 weeks or more to cut and process your stone, Old Station offers a much faster turnaround. Most orders are complete within 7 to 10 days and even next day in some cases. We stock a wide range of natural stone products and options including Blue Mist, Stanstead, Salt & Pepper and Caledonia Granite, Bluestone, Limestone, Brownstone, Travertine and many other species in a variety of sizes and thicknesses.