At Old Station, we are so much more than just a landscape supply store. We are your go-to consultants for any outdoor or landscape project you're taking on. We can help you visualize your project with our high-tech 3D graphics, we'll give you our two-cents when it comes to picking the best supplies, and we'll offer advice on how to best complete certain projects. The awesome personnel who work at Old Station are passionate about outdoor design and would love to speak with you more. Give us a call or stop by our showroom in Norton for more advice or help completing your project. We also have a contractor referral program where we'll help set you up with some of the best contractors around to get the job done.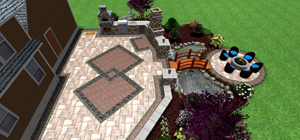 Our landscape design professionals are ready to assist you on every step of your outdoor improvement project, especially in the very planning stage. Follow the link to learn more about our 3D landscaping design services that help you visualize your future projects. 
At Old Station, we bring you much more than supplies. We offer consulting services to contractors and homeowners, introducing you to what's new in the industry and answering questions specific to your project or property.
Got questions? Browse through our client's most frequent ones to see answers about everything from selection, installation, styles and much more.