Description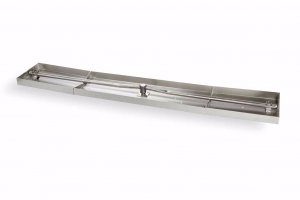 This unassembled match lit gas fire pit kit includes components needed to put together a match lit fire pit. Includes burner, manual valve, hard pipe, Flex Line and fittings.
FLAME HEIGHT ADJUST, UNASSEMBLED KIT
LP Applications: We offer a specific gas fire pit kit designed for LP applications. The LP kit also includes a properly sized air mixer. Please follow instructions during installation – Media type and the amount is critical for safe operation.
Unique flat-pan design with welded nipple and 1.5″ sides for media retention; raised-hub burner for reduced risk of water in valve.
Features
Raised Hub Burner Design
Stagger Port Burner Holes
#304 Stainless Steel
Includes Pan
LP Kits- Tuned Gas Air Mixer Included
Stainless Steel Gas Fire Pit Kits – Linear Interlink (#304 SS)
FPS/LINEAR25X8 KIT

25X8″ Linear Interlink Pan and 24″ Steel T-Burner with a 1/2″ Raised Hub and Valve burning at 50K BTU

FPS/LINEAR37X8 KIT

37X8″ Linear Interlink Pan and 36″ Steel T-Burner with a 1/2″ Raised Hub and Valve burning at 75K BTU

FPS/LINEAR49X8 KIT

49X8″ Linear Interlink Pan and 48″ Steel T-Burner with a 1/2″ Raised Hub and Valve burning at 100K BTU

FPS/LINEAR61X8 KIT

61X8″ Linear Interlink Pan and 60″ Steel T-Burner with a 1/2″ Raised Hub and Valve burning at 125K BTU

FPS/LINEAR73X8 KIT

73X8″ Linear Interlink Pan and 72″ Steel T-Burner with a 1/2″ Raised Hub and Valve burning at 150K BTU

FPS/LINEAR97X8 KIT

97X8″ Linear Interlink Pan and 96″ Steel T-Burner with a 1/2″ Raised Hub and Valve burning at 200K BTU

FPS/LINEAR121X8 KIT

121X8″ Linear Interlink Pan and 120″ Steel T-Burner with a 1/2″ Raised Hub and Valve burning at 250K BTU
Stainless Steel Gas Fire Pit Kits – Linear Interlink LP (#304 SS)
FPS/LINEAR25X8-LP KIT

25X8″ Linear Interlink Pan and 24″ Steel T-Burner with a 1/2″ Raised Hub and Valve burning at 50K BTU

FPS/LINEAR37X8-LP KIT

37X8″ Linear Interlink Pan and 36″ Steel T-Burner with a 1/2″ Raised Hub and Valve burning at 75K BTU

FPS/LINEAR49X8-LP KIT

49X8″ Linear Interlink Pan and 48″ Steel T-Burner with a 1/2″ Raised Hub and Valve burning at 100K BTU

FPS/LINEAR61X8-LP KIT

61X8″ Linear Interlink Pan and 60″ Steel T-Burner with a 1/2″ Raised Hub and Valve burning at 125K BTU

FPS/LINEAR73X8-LP KIT

73X8″ Linear Interlink Pan and 72″ Steel T-Burner with a 1/2″ Raised Hub and Valve burning at 150K BTU

FPS/LINEAR97X8-LP KIT

97X8″ Linear Interlink Pan and 96″ Steel T-Burner with a 1/2″ Raised Hub and Valve burning at 200K BTU

FPS/LINEAR121X8-LP KIT

121X8″ Linear Interlink Pan and 120″ Steel T-Burner with a 1/2″ Raised Hub and Valve burning at 250K BTU