Description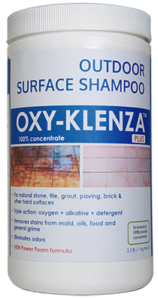 Description
Oxy-Klenza™ is an odorless, powerful triple action, oxygen, alkaline and detergent boosted heavy duty cleaner for removal of general grime and stains caused by oil / grease, mold, leaf marks, food and beverages. Suitable for all natural stone, tile, masonry, concrete, brick, grout, vinyl and raw /unfinished wood.
General Information
Typical applications:
Oxy-Klenza™ is recommended for cleaning outdoor surfaces including patios, building facades, decks, cladding, garages, driveways, eating and entertaining areas.
Oxy-Klenza™ is suitable for domestic and commercial cleaning of hard surfaces, including:
all natural stone (including acid sensitive, calcite based stones such as marble and limestone)
porcelain, ceramic and clay tile
brick, masonry, concrete and grout
vinyl and unfinished wood (with no stain, oil or other coatings)
Benefits:
Triple action foaming cleaner – oxygen. alkaline and detergent booster. pH approx 11 for fresh product.
Multi-use cleaner for heavy duty cleaning and removal of stains from oil, mold, food and beverage and leaf marks
Can be used to make poultices for removing heavy, old, dried-in stains
100% powder concentrate – use a single 2.2lb / 1kg bottle for heavy-duty cleaning of up to 500 sq ft / 50 sq m
Pack Size:
2.2 lb (1 kg) container