Description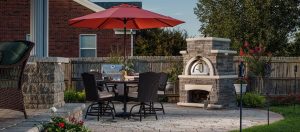 Belgard Outdoor Brick Oven designs are inspired by the traditional ovens first used over four thousand years ago. The secret is our authentic, low-height Neapolitan dome. This design creates a unique FlameRoll™, which generates high, even temperatures for balanced cooking and genuine wood fired taste. A fabulous Belgard patio brick oven will be the focal point of your outdoor kitchen. Belgard Outdoor Brick Oven Kits can be used with the Bordeaux™ and Bristol™ Series or as stand-alone pieces.
Colors
Dark Roast
Specs
Bordeaux™

42 1/2″D x 53 1/4″W x 92″H

Bristol™

4'D x 4'W x 8′ 5″H
Brick Oven Design Options
Our outdoor pizza oven kits can be a component to a modular Belgard Elements™ outdoor kitchen or built into a custom outdoor kitchen design. We also offer countertop and mobile units for smaller installations. From compact urban spaces to expansive suburban backyards, there's a Belgard Outdoor Brick Oven for every outdoor kitchen design.
Brick Ovens Are Not Just For Pizza
Although a wood fired oven is definitely the best choice for cooking pizzas, they can do so much more. Virtually anything that can be cooked in a regular oven can be cooked in our outdoor brick ovens. And everything you cook will have the rich textural flavor that can only be created with our FlameRoll™ technology.
Durable Outdoor Brick Oven Kits
Made from high-strength, cast-refractory materials, our brick ovens ensure long-lasting performance and reliability. All components are built in the USA and have been specifically designed to withstand North American climate extremes.