Description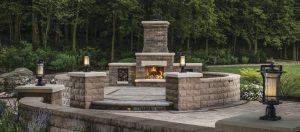 Create stylish outdoor living spaces with the Bordeaux™ Series, which features a timeless stacked stone design with smooth cast stone accents. Outfit your outdoor living room with this striking stacked stone outdoor fireplace or create a beautiful outdoor stacked stone kitchen centered around the grill island or outdoor brick oven components. Choose one component in the series to create an eye-catching focal point, or incorporate them all for a complete, coordinated look.
Colors
Sienna
Specs
Fireplace

2'7"D x 4'3"W x 7'8"H

Wood Boxes

2'11⁄4"D x 3'3"W x 3'1"H per box

Grill Island

2'6"D x 5'11"W x 3'5"H

Brick Oven

42½"D x 53¼ "W x 92"H
Details
Enjoy Your Stacked Stone Outdoor Kitchen In No Time
The Bordeaux™ Series is prefabricated and shipped in sections, allowing the components to be quickly installed to create a custom outdoor stacked stone look in mere hours, compared to the weeks it would take to construct on site. By the end of the day, you'll be roasting marshmallows in your stacked stone outdoor fireplace and grilling succulent steaks on your built-in grill.
Extending Your Outdoor Design
The Lamina® Stone veneer used to construct the Bordeaux™ Series can be ordered separately to expand your outdoor living space, or even coordinate with the interior of your home.
Outdoor Living Investments Pay Off
Investing in an outdoor kitchen or fireplace will not only increase the value of your home, it will improve your quality of life. Research shows you'll spend more time outdoors and gain more enjoyment from the time spent in your outdoor spaces.