Home exterior trends come and go, but masonry is a classic, as lasting as the stones of which they are made. The Shingle style of the late 19th century is best known for its high-profile use of masonry, but homes built before and since have made excellent use of stone.  With a variety of natural shades and techniques designed to pay tribute to New England's greatest architectural achievements, stone is the material for a classic New England home.
Not Quite Ready to Rock? 
As a material, stone does have its drawbacks, including weight and heat conduction. Natural stones are heavy, which makes them costly to transport and aren't suitable for areas with little support. Heat and cold also transmit through stone readily; if you've visited a castle, you'll know how quickly the cold outside can transfer inside. When used with the proper support, stone can endure beautifully for decades.
Culture Club
The weight of stone and the challenge of finding just the right colors and shapes has led to manufacturers creating cultured stones. These are made of shaped and colored concrete. They are relatively lightweight, are created in molds that ensure uniformity and can be painted to match. They aren't always as durable as natural stone, but if you are looking to match cultured stone already in your home, or you are looking to work on an area relatively protected from the elements, cultured stones can be an attractive and affordable choice.
Everything Old Is New Again 
One option, however, captures the beauty of natural stone without its drawbacks. Covering a building in attractive stone dates back to ancient Egypt, where the pyramids were once clad in white limestone. Today's stone veneers are sheets of natural stones that are thin enough to require no additional structural support. They can be as thin as three-quarters of an inch, but create the look of solid stone. Because they are made of natural stone, the variations of color, shape, and size available with natural stone veneers will mark your home as distinctive and tasteful.
Rock Stars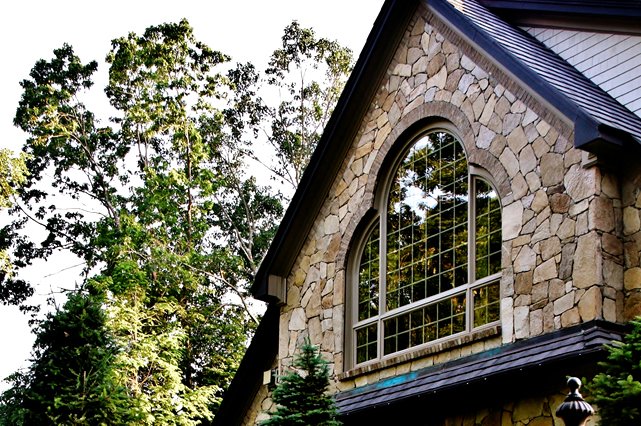 The Delgado Stone Veneer Colonial Tan Mosaic shows the rustic beauty of natural stone veneers.
The slightly irregular yet congruous shapes look perfectly natural while creating a consistent look. The striations in the stone evoke marble without the hefty price tag with a slight iridescence. Similar options include the Colonial Tan Ashlar, Colonial Tan Square/Rec, Colonial Tan Strip, and our best-seller Colonial Tan Ledge 
The Old New England Rounds create a softer, warmer look.
The creamy brown and grey tones remind one more of the Shingle style. But these can create a more subtle look for an outdoor dining area or water feature, as the roundness of the stones reminds one of rocks found by the riverbed.
The Connecticut Blend Ledge is perfect for cooler color schemes.
Paired with deep terracotta planters or bedecked with daffodils, the lines and angles of this pattern evoke bustling market towns. Similar Options include the Connecticut Blend Ashlar, Connecticut Blend Mosaic, Connecticut Blend Square/Rec and Connecticut Blend Strip.
Stone veneers are highly versatile, budget-friendly, and suit every color scheme imaginable. Stone veneers create looks that are distinguished but not hidebound, warm but not too precious. Whatever look you are hoping to achieve with stone, we're here to help.