Description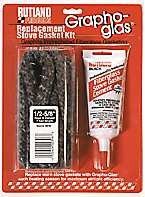 One of the easiest ways to increase the safety and efficiency of your burning appliance is to replace your gasket when it is no longer effective. In this convenient package our graphite-impregnated gaskets come together with a single-use tube of gasket cement to make replacing your stove or fireplace gasket painless.
Rutland gaskets last longer than traditional gaskets, resist unravelling, and impede creosote or soot adhesion. Choose your size and replace your old, worn out gasket in your fireplace, or wood, pellet, or coal stove to restore it's efficiency and safety.
Black Grapho-Glas Fiberglass Gasket Kit. 3/4″ flat kit 7′ conveniently packaged with E-Z Spread Fiberglass Stove Gasket Cement.