Description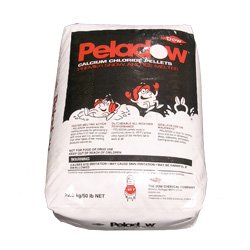 Peladow
Premier Snow and Ice Melter
When you need to buy professional grade ice melting materials, no ice and snow melt is as effective as Peladowtmcalcium chloride pellets.  Peladowtm brand calcium chloride pellets are the defacto standard of pellet deicers in North America.
Calcium chloride pellets, like Peladowtm, are highly effective at cold temperatures down to -25F.  In fact, Peladowtmcalcium chloride pellets are the only deicer that will continue to melt ice dams and hard pack in extremely cold environments.
No other ice-melt product works on snow and ice better than Peladowtm Calcium Chloride Pellets.
This has been proven by:
Distinguished from Other Ice Melters
Peladowtm Calcium Chloride Pellets:
Contain 90% calcium chloride, the most effective material for melting ice and snow
Melt ice faster than competing ice-melt materials
Absorb moisture and release heat to speed melting
Penetrate through ice up to 3 times faster than competing materials
Perform in a wide range of winter temperatures, even in extreme cold
Typical Applications:
Use Peladowtm to melt snow and ice on:
Sidewalks – Bluestone, natural flagging, pavers, and pave stone
Driveways – Asphalt, stamped concrete,
Parking lots
The Professional's Premier Choice
Professionals use Peladowtm for:
Commercial and industrial buildings
Multifamily residential buildings
Hospitals and university campuses
Municipal buildings
Homes
Casinos
Ice Melter Ingredients:
While most ice melters are composed of one or more, or a blend, of active ingredients, there are performance differences among the following:
Sodium Chloride (NaCl)
Potassium Chloride (KCl)
Magnesium Chloride (MgCl2)
Urea
Peladowtm contains 90% calcium chloride, so you can melt ice faster and across a wider temperature range.
Peladowtm melts ice faster than the competition.
In the first 20 minutes at 20'F (-7'C) Peladowtm melts approximately:
3X more ice than urea
7X more ice than potassium chloride
The Science of Snow and Ice Control
High performance is scientifically engineered into every Peladowtm pellet by way of it's:
Ability to attract moisture from its surroundings
Heat-generating reaction
Round shape
Each of these characteristics makes Peladowtm pellets perform better.