Description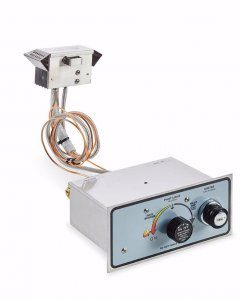 FPPK Control Box
This flame control system for your gas fire pit utilizes a standing pilot with thermocouple sensing to safely control gas flow, manual flame height adjustment, manual switch spark igniter (9V battery), and a safety pilot valve mounted in a stainless steel box (7"x 5"x 2").
Provides easy ignition and safety for outdoor fire pits or outdoor fire features up to a 24" fire ring or a 36" linear burner. (90k Btu)
Includes: Assembled stainless steel control box, 36" pilot assembly w/ spark igniter & blowout box, flex line, hard pipe, & fittings.
FPPK-HC-NG

Manual Spark, Flame Sense, Natural Gas Push Button Spark Ignition for Outdoor Fire Pit use up to 140K BTU

FPPK-HC-LP

Manual Spark, Flame Sense, Liquid Propane Push Button Spark Ignition for Outdoor Fire Pit use up to 140K BTU

FPPK-MC-NG

Manual Spark, Flame Sense, Natural Gas Push Button Spark Ignition for Outdoor Fire Pit use up to 90K BTU

FPPK-MC-LP

Manual Spark, Flame Sense, Liquid Propane Push Button Spark Ignition for Outdoor Fire Pit use up to 90K BTU