Description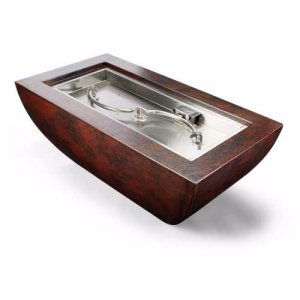 The HPC Phoenix Copper Bowl with S-Fire Burner fire pit insert is fitted with a CSA Certified match lit (MLFPK), push button flame sensing (FPPK) or remote electronic ignition (EI) fire pit insert and are available using either Liquid Propane or Natural Gas. These come in an oil rubbed, hand hammered finish that is a beautiful work of art and will be the focal point of any backyard patio.
Now with a Lifetime warranty on all Burners!
SHIPPING: Both bowl and fire pit insert ship from Ohio warehouse – crate on pallet.
Phoenix Copper Fire Bowl – S-Fire
Electronic Ignition Gas Fire Pit Bowl Model
PHOEN47X25/SFIRE-EI
47″ Length, 25″ Wide, 18″ Tall with a 13″ Base, Rectangle Hammered Copper Fire Bowl with a 36X14SSEI-S Insert burning at 75K BTU
Push Button Flame Sensing Ignition
PHOEN47X25/SFIRE-FPPK
47″ Length, 25″ Wide, 18″ Tall with a 13″ Base, Rectangle Hammered Copper Fire Bowl with a FPPK36X14-S-FLEX Insert burning at 75K BTU
Match Lit Ignition
PHOEN47X25/SFIRE-MLFPK
47″ Length, 25″ Wide, 18″ Tall with a 13″ Base, Rectangle Hammered Copper Fire Bowl with a MLFPK36X14-S-FLEX Insert burning at 65K BTU