Description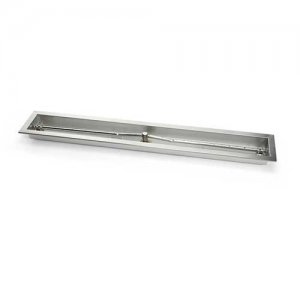 The match lit gas fire pit insert kit includes everything you need to put together a match lit fire pit. Includes burner, manual valve, Flex Line and fittings.
LP Applications: We offer a specific gas fire pit kit designed for LP applications. The LP kit also includes a properly sized air mixer. Please follow instructions during installation – Media type and the amount is critical for safe operation.
These burners are exclusively made by HPC – the unique V-shaped pan design saves on media vs. a standard rectangle bowl pan found at other manufacturers. The T-burner and pan are constructed with #304 SS – the 24", 36", & 48" pans are made with 18g SS, while the larger 60", 72", & 96" are made of 16g SS.
All gas fire kits include trough pan, T-burner, burner brackets, & center bracket. Warping of pan lip while HOT is common – could cause lip to not sit flush on surface. Please recess lip below enclosure top to hide any warping.
Stainless Steel Gas Fire Pit Kits – Trough (#304 SS)
FPS/TRGH24 KIT

24″ Trough Pan and Steel Burner with a 1/2″ Raised Hub and Valve burning at 50K BTU

FPS/TRGH36 KIT

36″ Trough Pan and Steel Burner with a 1/2″ Raised Hub and Valve burning at 75K BTU

FPS/TRGH48 KIT

48″ Trough Pan and Steel Burner with a 1/2″ Raised Hub and Valve burning at 100K BTU

FPS/TRGH60 KIT

60″ Trough Pan and Steel Burner with a 1/2″ Raised Hub and Valve burning at 125K BTU

FPS/TRGH72 KIT

72″ Trough Pan and Steel Burner with a 1/2″ Raised Hub and Valve burning at 150K BTU

FPS/TRGH96 KIT

96″ Trough Pan and Steel Burner with a 1/2″ Raised Hub and Valve burning at 200K BTU
Stainless Steel Gas Fire Pit Kits – Trough LP (#304 SS)
FPS/TRGH24-LP KIT

24″ Trough Pan and Steel Burner with a 1/2″ Raised Hub and Valve burning at 50K BTU

FPS/TRGH36-LP KIT

36″ Trough Pan and Steel Burner with a 1/2″ Raised Hub and Valve burning at 75K BTU

FPS/TRGH48-LP KIT

48″ Trough Pan and Steel Burner with a 1/2″ Raised Hub and Valve burning at 100K BTU

FPS/TRGH60-LP KIT

60″ Trough Pan and Steel Burner with a 1/2″ Raised Hub and Valve burning at 125K BTU

FPS/TRGH72-LP KIT

72″ Trough Pan and Steel Burner with a 1/2″ Raised Hub and Valve burning at 150K BTU

FPS/TRGH96-LP KIT

96″ Trough Pan and Steel Burner with a 1/2″ Raised Hub and Valve burning at 200K BTU