Description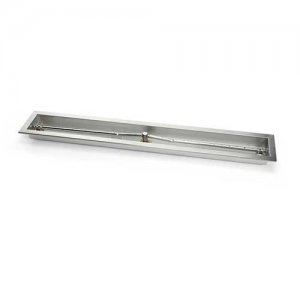 These linear outdoor fire pit burners are exclusively made by HPC– the unique V-shaped pan design saves on media vs. a standard rectangle bowl pan found at other manufacturers. The T-burner and pan are constructed with #304 SS– the 24", 36", & 48" pans are made with 18g SS, while the larger 60" & 72"" are made of 16g SS.
Now with a Lifetime warranty on all Burners!
All fire pit kits include trough pan, T-burner, burner brackets, & center bracket. Warping of pan lip while HOT is common – could cause lip to not sit flush on surface.
Features
Stagger Port Burner Holes
#304 Stainless Steel
Includes Trough Pan
LP Kits- Tuned Gas Air Mixer Included
Stainless Steel Fire Pit Linear Trough Burner (#304SS)
24SS TRGH

This 24″ Trough Fire Pit burner has a 1/2 Inlet and burns at 50k BTU

36SS TRGH

This 36″ Trough Fire Pit burner has a 1/2 Inlet and burns at 75k BTU

48SS TRGH

This 48″ Trough Fire Pit burner has a 1/2 Inlet and burns at 100k BTU

60SS TRGH

This 60″ Trough Fire Pit burner has a 1/2 Inlet and burns at 125k BTU

72SS TRGH

This 72″ Trough Fire Pit burner has a 1/2 Inlet and burns at 150k BTU

96SS TRGH

This 96″ Trough Fire Pit burner has a 1/2 Inlet and burns at 200k BTU
Stainless Steel Fire Pit Linear Trough Burner – LP (#304SS)
24SSLP TRGH

This 24″ Trough Fire Pit burner has a 1/2 Inlet and burns at 50k BTU

36SSLP TRGH

This 36″ Trough Fire Pit burner has a 1/2 Inlet and burns at 75k BTU

48SSLP TRGH

This 48″ Trough Fire Pit burner has a 1/2 Inlet and burns at 100k BTU

60SSLP TRGH

This 60″ Trough Fire Pit burner has a 1/2 Inlet and burns at 125k BTU

72SSLP TRGH

This 72″ Trough Fire Pit burner has a 1/2 Inlet and burns at 150k BTU

96SSLP TRGH

This 96″ Trough Fire Pit burner has a 1/2 Inlet and burns at 200k BTU