Description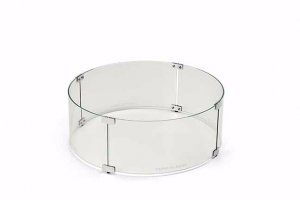 HPC provides a high quality glass wind guard specially designed to complement as well as provide additional safety for HPC fire pit inserts of all shapes- round, square, rectangle and linear. These feature a durable tempered glass construction to ensure a long lasting, heat resistant product. Wind guards reduce flame disturbance of your fire pit and prevents loose items from getting too close to the flames.
---
Features:
Tempered Glass – Heavy duty 3/16" clear glass is tempered to improve durability and allow it to withstand high temperatures. Depending on wind guard size- 4 or 6 sections complete the desired shape.
Brackets– Polished aluminum brackets and plastic support feet provided.
---
Round Fire Pit Wind Guards
WG23-RD

This 23″ round fire pit glass wind guard stands 6″ tall and comes in 4 pieces

WG30-RD

This 30″ round fire pit glass wind guard stands 6″ tall and comes in 4 pieces

WG38-RD

This 38″ round fire pit glass wind guard stands 6″ tall and comes in 6 pieces

WG48-RD

This 48″ round fire pit glass wind guard stands 6″ tall and comes in 6 pieces
Square Fire Pit Wind Guards
WG25-SQ

This 25X25″ square fire pit glass wind guard stands 6″ tall and comes in 4 pieces

WG31-SQ

This 31X31″ square fire pit glass wind guard stands 6″ tall and comes in 4 pieces

WG37-SQ

This 37X37″ square fire pit glass wind guard stands 6″ tall and comes in 4 pieces

WG43-SQ

This 43X43″ square fire pit glass wind guard stands 6″ tall and comes in 4 pieces

WG49-SQ

This 49X49″ square fire pit glass wind guard stands 6″ tall and comes in 4 pieces
Rectangle Fire Pit Wind Guards
WG31X19-RECT

This 31X19″ rectangle fire pit glass wind guard stands 6″ tall and comes in 4 pieces

WG37X19-RECT

This 37X19″ rectangle fire pit glass wind guard stands 6″ tall and comes in 4 pieces

WG43X21-RECT

This 43X21″ rectangle fire pit glass wind guard stands 6″ tall and comes in 4 pieces

WG49X21-RECT

This 49X21″ rectangle fire pit glass wind guard stands 6″ tall and comes in 4 pieces

WG61X23-RECT

This 61X23″ rectangle fire pit glass wind guard stands 6″ tall and comes in 4 pieces
Linear Fire Pit Wind Guards
WG31X15-L

This 31X15″ linear fire pit glass wind guard stands 6″ tall and comes in 4 pieces

WG43X15-L

This 43X15″ linear fire pit glass wind guard stands 6″ tall and comes in 4 pieces

WG55X15-L

This 55X15″ linear fire pit glass wind guard stands 6″ tall and comes in 4 pieces

WG67X15-L

This 67X15″ linear fire pit glass wind guard stands 6″ tall and comes in 4 pieces
WIND GUARD CLIPS (For Replacement or Extra Parts)
WG-CC-RD

Replacement Chrome Clip For Round Wind Guards

WG-CC-SQ/RECT

Replacement Chrome Corner Clip For Square or Rectangle Wind Guards
WIND GUARD RUBBER FEET (For Replacement or Extra Parts)
WG-RUBBER FOOT-RD

Replacement Rubber Foot For Round Wind Guards

WG-RUBBER FOOT-SQ/RECT

Replacement Rubber Foot For Square or Rectangle Wind Guards
WIND GUARD EXTENSION KIT (and parts)
WG-EXT/STR KIT

Complete Kit – 4 Extension chrome straight clips and 4 extension glass supports with rubber foot

WG-SC

Replacement extension chrome straight clip for square and linear wind guards-used for extending lengths on glass panels

WG-EGS

Replacement extension glass support with rubber foot