Description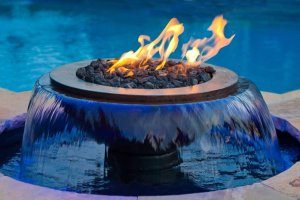 Winner of two prestigious Vesta Awards for Best Outdoor Hearth Product and Best in Show at the HPBExpo!
Perfect for any residential or commercial setting, these innovative fire and water effects add the sound of soothing water and beautiful blue LED lights to the warmth and romance of fire. They arrive fully assembled with a self-contained filtrated water system and wall switch control of fire, water, and lights. Just level the basin and connect the water, electric, and optional gas. Then cover the structure with stone, veneer, stucco, or our easy-to-install enclosure.
The Evolution 360 fire and water feature can be installed on practically any patio in a residential or commercial setting – no pond or pool needed! This fully assembled, plug-n-play system comes ready to install – simply level the water pit then connect water, electric, and gas. Finally, enclose with stone, veneer, stucco, etc. to match your patio décor. Operation is even simpler – three switches control the water, LED lights, and fire pit. The Evolution 360 is made of durable, weather resistant, black polyethylene and engineered to last – no on-site guesswork. It is strong enough to allow for the option of our Water Rock to be used to line the floor of the basin.
Now with a Lifetime warranty on all Burners!
FEATURES:
Electronic Ignition Fire Feature
Hidden blue LED lights illuminate the water
Auto fill system adds water when needed
Low level sensor protects pump
Reusable, easy-to-clean filter conditions water
Energy-efficient water pump moves 3,200 gallons of water per hour
Flexible height adjustment and leveling
Made of durable, weather-resistant polyethylene for long life
Overflow feature allows water to escape safely.
Controls: Fully controlled with Wall Switch or optional Remote Control (sold separately- #578-G4):
Separate Operation of Fire
Separate Operation of Water
Separate Operation of Lighting
SPECIFICATIONS
BASIN: 52″ diameter; 14-18″ adjustable sidewall height overall; 19″ to tower top; 10″ diameter tower flange to mount centerpiece; center tower supports most water features.
FLAME: Flame sensing electronic ignition with 12″ round burner at 90,000 BTU.
CERTIFICATION: CSA Certified.
WATER: Uses softened tap water (50 gallons).
WEIGHT: Dry – 125 lbs.; wet – 460 lbs.; maximum additional weight that can be added to basin floor – 200 lbs.; tower load – 100 lbs. max.
ELECTRICAL POWER: 120 VAC; control unit via switches on unit (included) or option of external switches; one each for fire, water, and lights.
GAS FOR FIRE PIT: Natural gas – 3.5-7″ WC or LP; 8-11″ WC.
4 Scupper Feature
Electronic Ignition 4-Scupper Water Feature
WB52R-TEMP4-EI-LP

Copper 4-scupper water effect, Electronic ignition fire, LP Gas

WB52R-TEMP4-EI-NG

Copper 4-scupper water effect, Electronic ignition fire, Natural Gas
360° Water Feature
Electronic Ignition 360° Water Scupper
WB52R-TEMP360-EI-LP

Copper 360° water effect, Electronic ignition fire, LP Gas

WB52R-TEMP360-EI-NG

Copper 360° water effect, Electronic ignition fire, Natural Gas
OPTIONAL

CCK – Copper Cleaning Kit

OPTIONAL

578-G4 – Remote

OPTIONAL

FPC-84WB and FPC-35 – Vinyl Covers