Description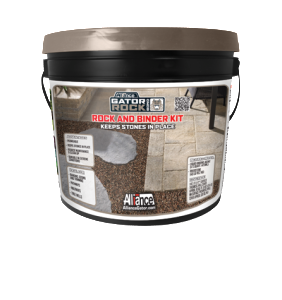 GATOR ROCK BINDER KIT
Rock and Binder Kit Keeps stones in place
DESCRIPTION
Gator Rock Bond is a one component binder, that mixed with riverstone creates a durable permeable and decorative surface. Great for garden pathways where erosion and drainage is a concern.
Included in Pail:
Liquid Binding agent (500ml).
Riverstone (18 kg / 40 lb).
ADVANTAGES
Porous and permeable.
Keeps stones in place.
Reduce maintenance & clean up.
Durable in extreme conditions.
Ideal For
Banding, edging, and trimming.
Pathways.
Walkways.
Tree wells.
COVERAGE
– 1 kit, at a 1/2" surface thickness, will cover approx. 10 sq. ft.
(1 kit, at a 13 mm surface thickness, will cover approx. 0.9 sq. m.)
APPLICATION & INSTRUCTIONS
PLEASE NOTE:
Wear gloves to avoid having binder sticking on your hands. Products should be mixed in a wheelbarrow or on a plywood board.
Application Instructions:
Prepare a solid base by densely compacting 4" (10 cm) of crushed stones.
Mix one 1/2 quart (473 ml) container of Gator Rock Bond with the dry clean riverstone (40 lb/18.2 kg) provided for for 4 minutes.
Trowel the mixed riverstone on the surface desired, within 20 min. after mixing.