Description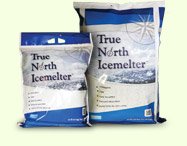 Effective to -15°C (+5°F)
Powerful & economical
Contains no dangerous chemicals
Easy to use
No oily residue
Instant Traction
Long lasting action
Effective to -15°C (+5°F)
True North™ Icemelter will melt down to low temperatures. It is effective to -15°C (+5°F) – working to lower than other icemelters.
Powerful & Economical
True North™ Icemelter is made up of differently sized granules, allowing the product to begin working effectively immediately, while keeping this blend an economical option for your basic icmelting needs.
Contains no dangerous chemicals
True North™ Icemelter is a basic chloride blend containing no dangerous chemicals. This product contains no magnesium chloride so it will not chemically harm concrete.
Easy to use
True North™ Icemelter is a product that is very easy to apply. It can be applied successfully with or without the use of a spreader.
Leaves no oily residue
True North™ Icemelter does not contain calcium chloride, so no oily residue is left behind to track into buildings.
Instant traction
True North™ Icemelter provide instant traction due to its granular format with sharp edges. Immediately upon spreading, it works to prevent slips and falls.
Long lasting action
True North™ Icemelter is a very economical de-icing option that keeps ice melted longer than other icemelters on the market.