Description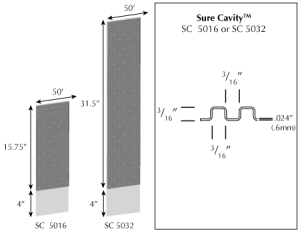 What Sure Cavity does:
The adhered fabric blocks mortar or stucco from filling the drainage channels and acts as a bug screen at terminations
It has superior appearance on thin veneers vs. furring strips due to less ridging, cracking, and waviness
It saves installation time (half the time of furring strips and backer board)
High impact polystyrene ensures durability, rigidity, and longevity
Vertical channels promote rapid drainage. Sure Cavity (and Gravity Cavity) are the only "True" channel drainage plane (drainage mat) products on the market today
Perforations allow cross-ventilation for better drying
Compartmentalized channels promote pressure equalization
It prevents bridging
Exceeds ASTM E-2273
UV Tested – Over 9 Weeks
How to install Sure Cavity*
Position Sure Cavity™ with the spunbond fabric facing to weather with 4″ fabric skirt wrapped back under bottom on first course.
4″ spunbond fabric skirt should overlap the top of the lower course of Sure Cavity™. Only the fabric overlaps the course below (the top of the lower corrugated polystyrene sheet abuts the bottom of the upper corrugated polystyrene sheet).
WRB, Sure Cavity™ and metal lath to extend down over top of foundation wall a minimum of 2″.