Description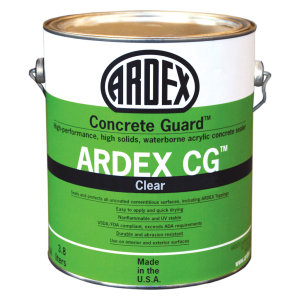 ARDEX CG CONCRETE GUARD™
High-performance, high solids, water-borne acrylic concrete sealer​​​​​​​​​​​​​​
Seals and protects all uncoated cementitious surfaces, including ARDEX Toppings
Durable and abrasion-resistant on interior and exterior absorbent concrete and masonry surfaces
USDA/FDA compliant, exceeds ADA requirements
INFORMATION ARDEX CG CONCRETE GUARD™
ARDEX CG Concrete Guard™, applied at a minimum of two coats, is designed to protect all interior and exterior absorbent concrete and masonry surfaces on residential and commercial applications, including driveways, sidewalks, patios, courtyards, walkways, pool decks and most vertical concrete surfaces.
Key Features
High-performance, waterborne acrylic concrete sealer
Seals and protects uncoated, absorbent concrete and masonry surfaces
Easy to apply and quick drying
Nonflammable and UV stable
USDA/FDA compliant
Exceeds ADA requirements
Durable and abrasion resistant
For exterior or interior use
Available in Clear or Gray
TECHNICAL DATA ARDEX CG CONCRETE GUARD™
Installation
Coverage for Gray:
Over broom finish: 150-200 sq. ft. (14-18.5 sq. m) per gallon
Over smooth finish: 200-400 sq. ft. (18.5-37 sq. m) per gallon
Coverage for Clear:
Over broom finish: 200-300 sq. ft. (19-28 sq. m) per gallon
Over smooth finish: 400-600 sq. ft. (37-56 sq. m) per gallon
Performance
VOC Content: Max. 249 g/L – Calculated and Reported SCAQMD 1113
Solids Content: 40%
S.C.O.F. (ASTM C1028) Smooth surface profile: 0.60 – 0.70
Medium-to-coarse surface profile: 0.88 – 0.90
Cleanup: Clean up with water when wet.
USDA/FDA FSIS Directive 1000.4, Revision 1: Approved
Drying Time (minimum at 70°F/21°C): To touch: 1 hour
Apply second coat: 2 to 4 hours
Receive normal traffic: 24 hours
Color: Gray and Clear
Packaging: 1 Gallon / 3.79 L Container
Storage: Store in a cool dry area. Do not expose container to sun. Keep from heat. Protect from freezing. Keep container closed when not in use.
Shelf Life: 1 year, if unopened
Warranty: ARDEX L.P. Standard Limited Warranty applies.
For complete product technical information, click on the Downloads tab and open the Technical Data download