Description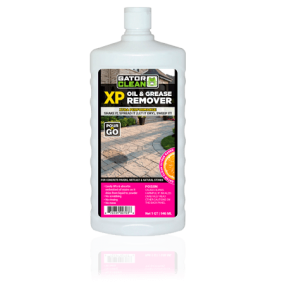 GATOR XP OIL AND GREASE REMOVER
Extra Performance
Shake it, Spread it (let it dry), Sweep it!
Description
Gator Clean XP Oil and Grease Remover easily removes tough stains from motor oil, cooking oil, grease, wax, and more. Just shake it, spread it on the stain, let it dry, and sweep it off. Rinsing is needed if product has aged. Use it on concrete, brick, stone, composite decking, and more. Do not use on asphalt (blacktop). Gator Clean XP Oil and Grease Remover is biodegradable and phosphate-free.
Features
Easily lifts & absorbs embedded oil stains as it dries from liquid to powder
No scrubbing, no rinsing, no mess
Application and Instalation
Shake bottle before applying to stain, extending one inch beyond perimeter of the stain.
2) Allow to dry completely to powder. Wait 12 to 24 hours, depending on temperature, humidity and ventilation.
3) Sweep it up. If area still appears dark, provide adequate ventilation and allow moisture to evaporate.
4) If stain remains, re-apply, scrub with hard bristled brush, and repeat steps 2 & 3.
5) Rinse off any remaining residue with water
Please Note
Before using on sealed, colored, or painted surfaces, ALWAYS TEST the product on a small hidden area of approximately 4 square inches (26 sq. cm.) to ensure the results will meet your expectations. Prior use of other cleaners may inhibit performance. If applied on sealed pavers it may damage the seal.
Limited Warrenty
Alliance Designer Products inc. cannot guarantee results as it has no control over surface preparation and product application. If this product is proven to be defective, on the condition that it was applied pursuant to the required method of application and surface preparation, the sole obligation of Alliance Designer Products inc. is to refund the purchase price. Proof of purchase is required for any claim. Alliance Designer Products inc. shall not be liable for any other damages whatsoever, direct or consequential. To the extent permitted by law, Alliance Designer Products inc. excludes any implied warranty of quality, merchantability or fitness for purpose.