Description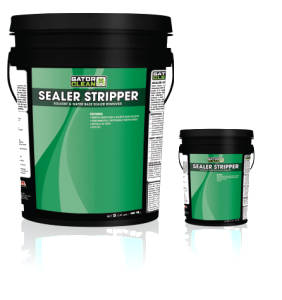 GATOR SEALER STRIPPER
Solvent & Water Base Sealer Remover
Description
Gator Sealer Stripper is extremely effective for removing sealer from concrete paver or stone. It is a paste, it is easily applied with a brush, or roller. Gator Sealer Stripper is formulated to remain wet and effective over extended periods. Always preform a test area to determine exact reacting time. To use, apply to surfaces with a brush, roller according to test patch results. Once is ready to be removed use power washer to strip surface. Be sure to scrub remaining residue with nylon brush and water. Allow surfaces to air dry before resealing.
Features
Will not burn skin
Removes multi layers in a single application
Environmentally responsible: water based
Virtually no odor
Zero VOC
pH neutral – No neutralization necessary
Shelf Life of 2 years if container and kept well sealed in a warm, and dry environment
Preparation
Surface must be clean and dry.
Wet down all vegetation before beginning.
Protect and cover all areas such as vegetation.
Solvent resistant polyethylene sheets can be used as an effective barrier.
For best results, use above 50° degrees and below 90° degrees Fahrenheit.
Application
Always work in smaller manageable areas when stripping.
Use a brush or roller apply paste no less than a 1/8" thick.
On irregular surfaces use a nylon brush to force paste into intricate areas.
Reaction time between 3-24 hours if necessary.
Average spread rate of approximately 40-50 sq. ft. per gallon; results may vary based on surfaces texture and porosity.
Removal and Clean-Up
Use a pressure washer.
Immediately use a nylon brush and clean water to scrub residue off the surfaces.
Rinse thoroughly with water to remove all remaining residue.
For optimal results, low pressure washing is recommended for final rinse.
Dispose of dissolved coatings according to federal, state and local regulations.
Best Practices
Always test the surface for suitability & reaction time.
Let Sealer Stripper react at least 3-24 hours before removing.
Never apply Sealer Stripper and leave it for 24 hours without checking on it.
If product dries or hardens to surface, apply a thin coat of Sealer Stripper on hardened area and wait 30 minutes to 1 hour and remove.
Shelf Life of 2 years if container and kept well sealed in a warm, and dry environment.
Limited Warrenty
Alliance Designer Products inc. cannot guarantee results as it has no control over surface preparation and product application. If this product is proven to be defective, on the condition that it was applied pursuant to the required method of application and surface preparation, the sole obligation of Alliance Designer Products inc. is to refund the purchase price. Proof of purchase is required for any claim. Alliance Designer Products inc. shall not be liable for any other damages whatsoever, direct or consequential. To the extent permitted by law, Alliance Designer Products inc. excludes any implied warranty of quality, merchantability or fitness for purpose.