Description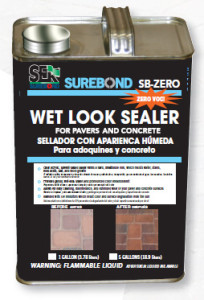 SB-ZERO is a clear sealer that will not yellow under exposure
to sunlight. It forms a tenacious bond to the concrete or
masonry surface. The high solids formula combines properties
of adhesion, flexibility and UV light resistance to provide a long
lasting, concrete seal. SB-ZERO will penetrate the substrate
and provide a protective layer on the surface that is resistant
to mild acid, alkali, and salt attack and will not support mold
growth. SB-ZERO will increase the stain resistance of the
concrete and allow easier cleaning, maintenance, and
extended wear.
SB-ZERO will seal and enhance the beauty of new and old
concrete, masonry and related surfaces. It is ideal for
Interlocking concrete pavers, stamped concrete, or masonry
surfaces giving them a wet-look finish. SB-ZERO is the perfect
product to restore the look and elegance of old/tired pavers.
Also works on limestone, sandstone, clay and natural
pavingstones. SB-ZERO has a unique property which allows
the substrate to breathe while protecting it from rain and
contaminants.