Description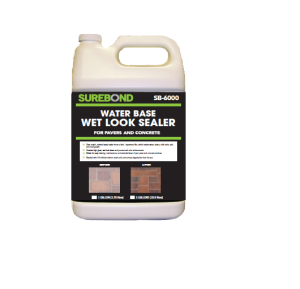 SB-6000 Wet Look Sealer seals and enhances the natural colors of treated surfaces with a luxurious, wet look. It is breathable and will not trap naturally occurring efflorescence, allowing it to be applied immediately after pavingstones
are installed. SB-6000 Wet Look Sealer improves surface durability and freeze-thaw resistance while protecting the surface from salt, acid and staining. SB-6000 Wet
Look Sealer is a water-based, exterior quality, epoxy modified surface sealer. It exceeds all VOC, EPA, OSHA and FDA standards. SB-6000 Wet Look Sealer has the
consistency of water and is milky white when applied; it dries to a clear, wet look on the surface of the pavement. SB-6000 Wet Look Sealer can be used both inside and outside on old and new pavements. Cured sealer is freeze resistant to
-60°F (-51°C) and is stable up to a temperature of 180°F (82°C).