Description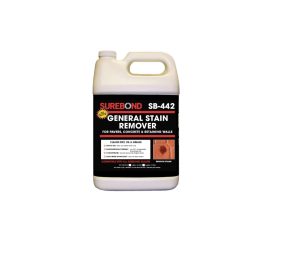 SB-442 General Stain Remover is a concentrated non-acid  degreaser and general purpose cleaner for use on pavers, concrete and retaining walls. This technologically advanced  cleaner removes motor oil, food an beverage stains. It is  environmentally friendly and replaces several types of harsh  acid cleaners. SB-442 General Stain Remover's unique  Clean Rinse Technology lifting power allows residue to be
quickly and easily rinsed away with a high or low pressure  water sprayer. SB-442 General Stain Remover's chemical blend draws out stains from within the surface but does not etch or damage concrete, anodized aluminum or painted surfaces. The product can be used to clean and maintain Surebond sealed pavements as it is compatible with all other Surebond products. It is suitable for both horizontal
and vertical surfaces. Phosphate free.