Description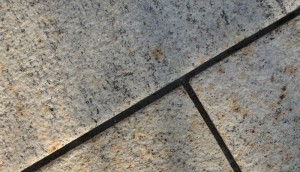 2" Treads & Widestock
1 ¼" Patterned Flagging
6" Rockfaced Steps
3" Rockfaced Pier Caps
Slab Cutting Stock
Sandy Point Granite is a decorative dense yellow granite with irregular streaks of brown and flecks of black. The surface is sand-blasted for a uniform texture. It is relatively cool to the feet and makes an excellent pool-side deck & coping.
Sandy Point Granite is imported from a select quarry in mainland China. Each piece is hand-selected, cut and each piece must meet our standard for color range, surface texture and quality.
Sandy Point Granite is stocked in standard patterned flagging, treads, steps and cutting-stock for custom fabrication.
 Sandy Point Granite is also called as Cedar Lake granite, Wheat Chaffe Granite, Niagara Blond Granite and Aurelia Granite.