Description
The Building Blocks
Eldorado Outdoor cabinets quickly assemble into a virtually limitless combination of configurations. Each piece is made of glass-fiber reinforced concrete (GFRC) which can be installed on any solid flooring surface without concrete footings or rebar.
Start Designing Your Space Now by clicking our interactive design tool in the top right corner!
Eliminate construction waste and additional time associated with traditional masonry block installations. Eldorado Outdoor products can be assembled in just hours; even cut-outs for custom features such as barbecues, sinks, drawers and burners can be done on-site.
Cabinets
Eldorado Outdoor has redefined how to build outdoor living spaces with a collection of strong, yet lightweight building blocks. The blocks quickly assemble into custom barbecue islands, kitchen counters, raised bar counters, and more–ready to be dressed with Eldorado Stone and Brick within hours.
Straight (Linear) Cabinets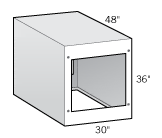 48″ Cabinet
30″ D x 36″ H • OLPLSOO48
36″ Cabinet
30″ D x 36″ H • OLPLSOO36
24″ Cabinet
30″ D x 36″ H • OLPLSOO24
12″ Cabinet
30″ D x 36″ H • OLPLSOO12
BAR-HEIGHT Cabinet with 10″ Cantilever Backside
30″ D x 30″ L x 40″ H • OLPLSBHBS
Cabinet with 10″ Cantilever Backside
30″ D x 30″ L x 36″ H • OLPLSCHBS
60″ Cabinet
30″ D x 36″ H • OLPLSOO60
90° Corner Cabinets
BAR-HEIGHT 90° Corner Cabinet with 10″ Cantilever on Two Sides
30″ D x 30″ L x 40″ H • OLPLSBHBC
90° Corner Cabinet with 10″ Cantilever on Two Sides
30″ D x 30″ L x 36″ H • OLPLSCHBC
90° Corner Cabinet
30″ D x 30″ L x 36″ H • OLPLSOOCN
90° Radius Corner Cabinets
90° Radius Corner Cabinet
30″ D x 30″ L x 36″ H • OLPLSOCHR
90° Radius Corner Cabinet
with 10″ Cantilever
30″ D x 30″ L x 36″ H • OLPLSCHRC
BAR-HEIGHT
90° Radius Corner Cabinet
30″ D x 30″ L x 40″ H • OLPLSOBHR
BAR-HEIGHT
90° Radius Corner Cabinet
with 10″ Cantilever
30″ D x 30″ L x 40″ H • OLPLSBHRC
135° Corner Cabinets
135° Corner Cabinet
30″ D x 36″ H • OLPLSCH45
135° Corner Cabinet
with 10″ Cantilever
30″ D x 36″ H • OLPLSCC45