Description
Accessories
Eldorado Outdoor accessories complete your custom kitchen design with hardware kits, end caps to close off openings, required ventilation, and more.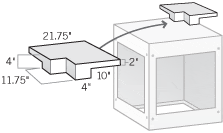 Corner Raised Backsplash
OLPLSBCRN
Creates 4″ high raised corner backsplash with 10″ cantilever; connects to Straight Raised Backsplash for L-shaped configurations. Requires 2 bolts for mounting (not included).
Straight Raised Backsplash
OLPLSBSTR
Creates 4″ high raised backsplash (23.75″ long) with 10″ cantilever and 14″ counter surface. Requires 3 bolts for mounting (not included).
Cabinet End Cap
24″ × 24″sq • OLPLSECAP
End Caps complete the installation by closing off openings on either end of assembled island.
Vent
01000VENT
Vents are recommended by many barbecue appliance manufacturers when installing gas appliances into a closed cabinet
Appliance Bracket Set
OLPLSAB02
Includes 2 brackets & screws for use with drawers, doors, etc. Works with flanges to secure items in cabinet cut-outs.
Fastener Set
OLPLSF004
Includes 4 nuts, 4 bolts & 8 washers. One fastener set is required to secure two cabinets.