Description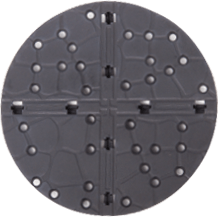 Gator Base is environmentally friendly, engineered to return water to the native soil due to the evacuation channels incorporated in the Gator Base. It will never leach chemicals or degrade in the native soil for over 100 years.
The creation of the Gator Tile System allows for the installation of porcelain tile directly on top of the Gator Base using the Gator Spacer to provide uniform spacing and unparalleled stability. The Gator Spacer has been designed to provide the right support, load transfer and a monolithic surface binding all units together.
All Gator Spacer bars can be removed to create a flat disk to support larger tiles and uniformize the load transfer to all units. Simply break the spacer bar's bridge to obtain a flat disk.
The reverse side of the Gator Spacer has been designed and engineered to ensure ease of use and maximum grip of the Gator Spacer to the tile. The Tile Secure Lock will be ensured with the Gator Block Bond XP adhesive filling the reverse rivet holes creating a bond and a lock between both the Gator Spacer and the tiles.
Use Gator Block Bond XP to ensure mechanical binding and structural integrity of the system. Binding the Gator Spacer to the porcelain tile minimizes any lateral movement due to the natural elements.
The spacer can be cut into either a half- or a quarter-unit (using an utility knife) to be used along the edge of a building or the Gator Edge. Take note that the spacer bar needs to be kept to ensure exact spacing when laying the tile.