Description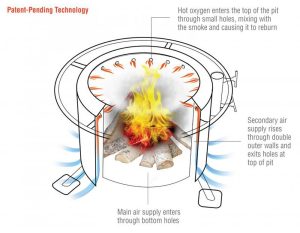 Your backyard patio project needs something different. It needs an old fashioned, real wood fire. But it doesn't need the smoke. 
The solution? Zentro™ fire pits. Higher, more even temperatures mean faster cooking, and patent-pending smoke re-burning technology nearly eliminates annoying smoke for playing guitar, sipping hot cocoa or swapping stories.
The Zentro™ line of fire pits are designed to easily fit into any exising or new paver, patio or stone fire pit. This product fits ring sizes ranging from 30″ to 47″ in diameter.
Get the family and friends, and Gather Round.
More than half of us own smartphones. Why not own the only smart fire pit?
Wood fires are great, but one downside is too much smoke. No matter where you sit, the smoke always seems to follow you around and sting your eyes.
Zentro is the answer. It uses a patent- pending secondary afterburner to drastically reduce smoke by igniting it before it has a chance to escape.
And with double-walled construction, the outer surface and top rail stay cooler, for safer campfires. Plus, even though it's cooler outside, it's 30% hotter inside, and designed to distribute heat evenly across the cooking surface for more consistent cooking temperatures.
Remember, when grilling over the fire with grease dripping off the grill, the fire will smoke. This is because the smoke is coming off of the grill and other places that are not below the re-burning ring.