Description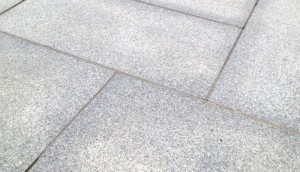 Granite is a common and widely occurring type of igneous rock. Granites usually have a medium to coarse grained texture. Granites can be pink to dark gray or even black.
Granite is one of the three most popular architectural building stones in addition to limestone and sandstone.
Imported gray granite offers an economical choice for applications specifying a gray granite color. Imported from China, this stone has the same characteristics, weight and workability of other granites.
Imported gray granite can be substituted a specification of gray or #603 granite. As with any stone this granite should not be mixed with granite from other locations if an exact color match is required.
Imported gray granite is available as flagging or pavers, treads, steps and slab material for custom fabrication.
 Available in:
2" Treads, Sills & Widestock
1 ¼" Patterned Flagging
7" Rockfaced Steps, Landings & Fillers
3" Rockfaced Pier Caps Mailbox & Lamp Posts Slab Cutting Stock